Model GIANNA are beautiful, patterned knee socks with intricate decoration and embroidery, stitched with shiny thread. Of course, you can wear them as standard - with trousers and elegant shoes, as well as with longer dresses and skirts, but their appearance is so unique that you definitely don't need to hide them! Black knee highs with shiny thread will go great with dresses of a shorter cut and even with shorts and sandals with an intricate tie around the ankle (as worn by stars and models on the world's catwalks). Patterned knee socks will therefore be a sparkling addition to carnival styles, just as they will fit into everyday styling with a subtle twist!
Black GIANNA knee socks - why is it worth having them in your wardrobe?
Patterned knee socks from Lores are not only beautiful with intricate embellishments and perfect design – their Italian origin also guarantees exceptional durability and comfort. The highest quality yarn, resistant to many hours of wear and mechanical damage. In addition, black knee socks from Lores do not squeeze the leg in the calf area, do not dig into the toes and provide comfort for wearing all day long!
Composition: 92% polyamide, 8% elastane
Thickness: 40 DEN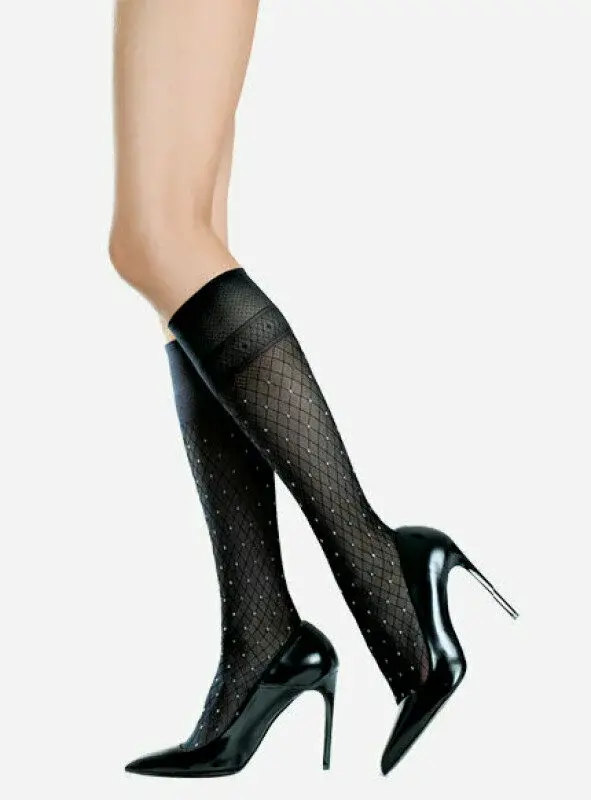 Black knee socks stitched with shiny thread GIANNA 40 DEN Lores